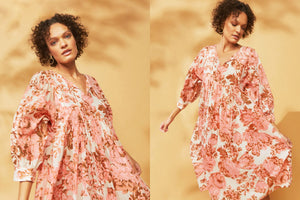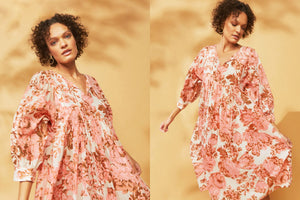 Hand made and ethical fashion
Discover
New Styles & New Prints
Let customers speak for us
Thoughtfully Designed
Lovingly Hand-Crafted
At House of Lacuna, we don't believe in seasonal collections. In fact, we stay away from doing anything quickly; without conscience.
Our styles are slow from infancy: designed, hand-stitched and printed with intention and purpose at every step. The result is simple, timeless and classic fashion, worn for years and across every season.
Supporting Artisans in India and their communities, with integrity, honour and grace.
Every texile print Naomi Designs inhouse through motif design in illustrator and photoshop.
Our Story
Naomi Swalwell comes from a long line of entrepreneurs, with her great grandfather founding the nationally treasured brand, Cottees. 
It was her grandmother Mae, in fact, who came up with the Aussie staple of every family's summer, 'Passiona', helping her father to lovingly squeeze the fruits for each batch of cordial and jam. 
Naomi's fashion credentials are vast and impressive, with stints in design production at Zambesi and womenswear design at Bonds. It was these experiences that Naomi credits to her love for homegrown brands; ones that cultivate and celebrate the laid-back Aussie aesthetic, and snap-change seasons of the land down under.
Using renewable textiles and Employing Local Workers to create timeless, quality garments
Featured In
Ethos
House of Lacuna
House of Lacuna literally means 'new space' in Latin, but to us, the translation goes so much further than just the name - it is reminiscent of the many moons of reinvention that women pass through over their lives. 
Our timeless pieces are designed to take you through them all.
Read More
Step into our corner of socials