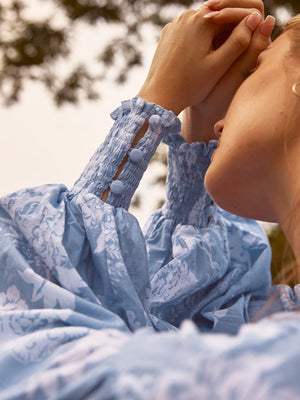 Our Fabrics
We care about farmers, workers and the planet which is evident in our selection of natural fabrics and the elimination of chemicals in our production process. We reject the standard fast-fashion manufacturing processes and are always looking for new and improved eco-friendly fabrics that contribute to a cleaner environment.
We use eco screen-printing for our unique designs, and our garments are handmade using eco-friendly LENZING ECOVERO™ Viscose fibres. These natural fibres are derived from certified renewable wood sources using an eco-responsible production process that reduces emissions and water impact by 50% compared to generic Viscose.
LENZING ECOVERO™ fibres are EU Ecolabel certified for meeting high environmental standards throughout their life cycle: from raw material extraction to production, distribution and disposal.
LENZING ECOVERO™ offers complete supply chain transparency, and these Viscose fibres are identifiable in the final product, giving environmentally-conscious consumers peace of mind when shopping for garments.
You can view more about the fabulous LENZING ECOVERO™ from the video below